First Time at La Scala§
writer: russell j.t. dyer; posted: October 24, 2014; revised: April 2, 2018; readers in past month: 1903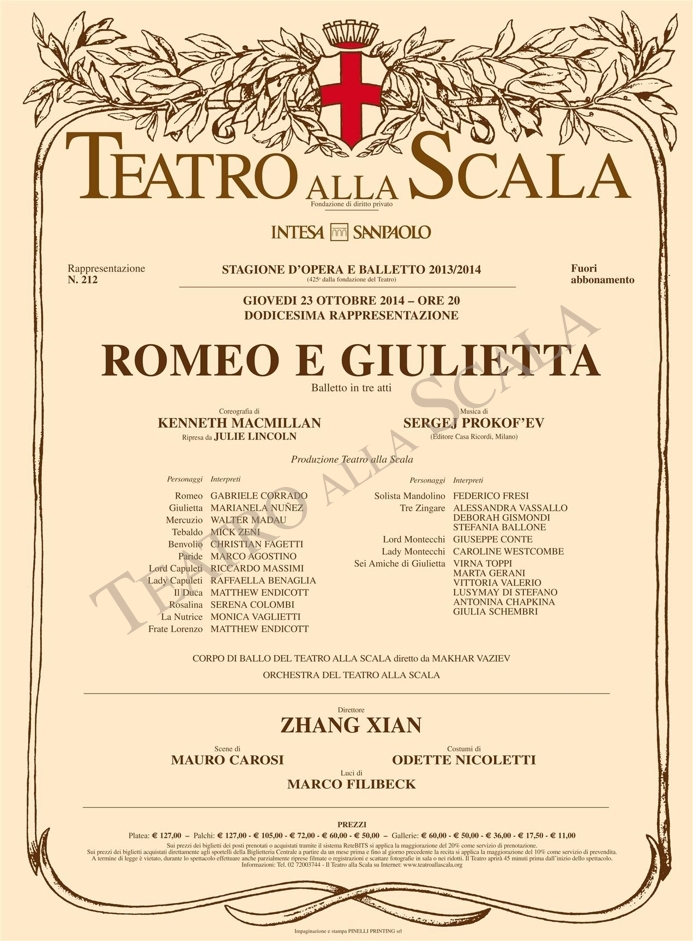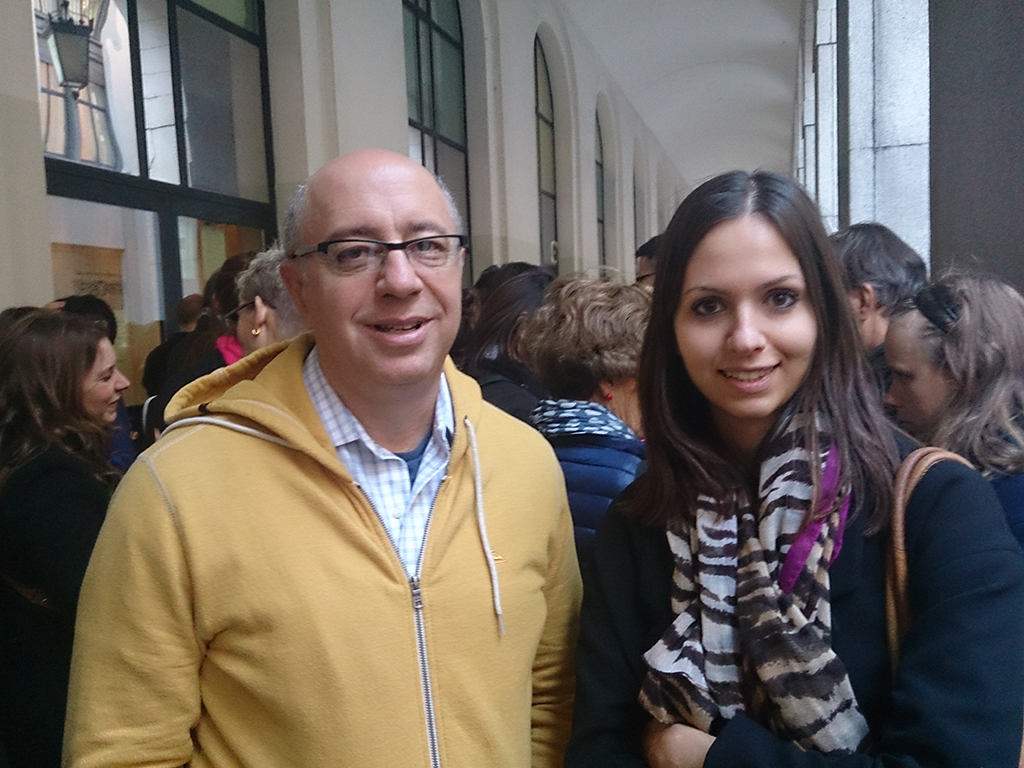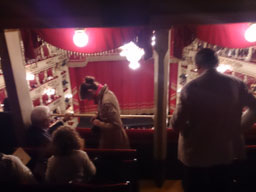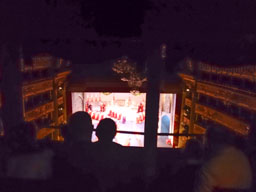 Although I've been in Milan for nine years now, I've never been to a performance at La Scala. I love opera and ballet, and enjoy very much symphony orchestra performances. Despite La Scala being one of the best opera houses in the world, as well as producing first rate ballets and symphonies, I hadn't seen a performance at La Scala until this week.
One of the reasons I haven't seen a performance is the cost of tickets. A single ticket sells for about €180. If I would go to a performance I would want to go with someone else. I've asked friends to go, but none of mine wanted to go with me. Ideally, I'd like to go with a date. The problem with this idea is that I would have to buy two tickets: one for me and one for my date, being gentlemanyly. In the first few years while living here, I had a girlfriend, but didn't have that much money available. Now that I have a better income, I don't have a girlfriend. I've gone out with women, but mostly for only one date. If I'm to spend that much money on a date, I'd like it to be with a woman I've dated a few times at least.
It's possible to get tickets for good seats for less than €180, but I would need to buy them several weeks, maybe months in advance. Since I haven't gone out with many women more than once, it's difficult to be assured a date weeks in advance. It's frustrating, and it's silly of me to let this stop me from going to La Scala. I should just buy a pair of tickets weeks in advance and hope I'll find someone to go with me — either a date or a friend. Or I could buy a single ticket and plan to go alone, just to enjoy an opera or a ballet.
Last week my friend Lena Stankoska from Sweden came to town. While she was here, we decided to try to get tickets to see a performance at La Scala theater. I had heard that if you go to the theater around 1:00 p.m. the day of a performance, you can get tickets at a very low price, sometimes tickets at eye-level to the stage. I was told that you just need to wait in line for a long time. I've thought of trying this, but I rarely pursue vague ideas like this. Lena wanted to give it a try, though. There was a ballet performance of Romeo and Juliet. So while she was out, planning to meet a friend for lunch near La Scala, she passed by to see if she could buy tickets for us.
Lena arrived at La Scala about 12:00 p.m. when there were only a few people waiting. Around 12:30 she called me to join her. She was told that you must be present to buy your own discounted ticket; you can't buy tickets for someone else. It took me a few minutes to get there, but I made it in time. A little after 1:00 p.m., two people, who I believe are members of a musical association and volunteers, looked at our identification and wrote our names on a list. We were given numbers based on our positions in line: we had numbers eight and nine. We were told to return at 5:00 p.m. to buy the tickets.
At 5:00 p.m. we returned, at first waiting in line. We didn't have a very good position this time since we didn't get there forty-five minutes early. But after about thirty minutes of waiting, the same two volunteers arrived and called out the numbers from their list. So it didn't matter that we were far back in the line now. The line quickly turned into a gaggle — always a popular formation in Italy. They checked our identification again and then gave us a small colored slip of paper with the numbers we were assigned on them.
We waited another half hour for the doors to open for the ticket office. The volunteers called for the first ten people, putting us in order. We then went in and gave another person our identification. He entered our last names in a computer and printed a pair of tickets for us with our names printed on them.
Being among the first batch of people to get our tickets, when we went back outside I raised them high in triumph and declared to the crowd in English, "It's possible!" and again in Italian, "È possibile!" They laughed — the English speakers first and then the Italians. We then headed home to await the performance. I went feeling we had done well. I like when I'm able to beat the system.
We returned a little after 8:00 p.m., but the ballet hadn't started yet. I was curious as to where we were seated. I assumed that since we were among the first ten to get discounted tickets that we would have good seats. I had hoped it would be on the first level above stage level. It turns out that all of the discount tickets are for the second gallery. I've since learned that they offer for each performance, one-hundred forty tickets in the second gallery. That may not sound so bad, the second gallery, but there are three levels below the first gallery. The lower levels are almost always sold-out and not available at a discount. Being early, we had seats in the v
Although we had terrible seats, I'm still glad we went. I was very impressed by the performance. In previous ballets I've attended, the costumes were standard issued leotards and tutus. These performers were wearing beautiful costumes appropriate to the period and the characters they played. The scenery was moderately minimal, but significant for a stage performance. Lighting and music was most professionally done. It was a first-class production and the dancers were excellent.
When I thought we had beaten the system and found a way to get what I assume eroneously were good seats at a low price, I mused for a while before the performance about changing my lifestyle. I thought about making a point to go at least once a month, maybe twice a month to see an opera, a ballet, or a symphony performance at La Scala. I would go by myself and just enjoy the performances and praise myself for living in Milan and enjoying one of the great artistic assets of the world.
Now that I know that the adage that "you get what you pay for" holds true at La Scala, I won't be seeing as many performances as I had hoped. However, after seeing my first performance, albeit from a disadvantaged seat, I want to go back and see more — but from a better seat. The price of eleven euros and well over three hours spent waiting outside the theater and traveling on the tram, isn't much of a savings. When I do consulting work, I get around fifty euros an hour for my time. For at least three hours, I would get €150. Add to that the €11 for the ticket and you get a total cost of €161 for a ticket. I can buy a last-minute ticket for a very good seat for €180. If I buy tickets in advance, I can get them for €80 to €100. They may be high up, but not as high as the second gallery and I can make sure I get one in the front row without anyone sitting in front of me.
To enjoy performances more, I usually read the libretto for an opera, possibly listen to some of the music or watch it on-line. I do something similar in preparation for a ballet or a symphony performance. Given this type of enhancements to the experience, I find that I get more out of a performance and thereby more for my money. So, purchasing one ticket a month for one-hundred euros won't be very expensive. If I ever get a regular girlfriend again, I can buy two tickets so as to have her accompany me. I could even buy season tickets to be assured of better seats and price.
Now that I've done a trial of La Scala and have seen the quality of their performances, I can visualize this adjustment to my lifestyle. It won't be so Bohemian as standing in line for discounted tickets, but it will still be a pleasurable experience and not too expensive if I buy tickets in advance and do so regularly. So, I'm glad I went to the ballet this week and grateful to Lena for getting me started.